I had no intention of foisting anything like a Christmas gift guide upon the world, but something we came across made me reconsider. Don't worry, I shan't be flying the flag for using VR as a babysitter (though it's tempting), or championing the seemingly unending stream of princess-pink tat that's on offer these days – instead I shall just recommend one single book. And what a book.
No matter who you're buying for this holiday season, from toddler to pensioner, I truly believe you'd need to have a heart of granite not to be captivated, entertained, and enthralled by A Child of Books. This collaboration between artists Oliver Jeffers and Sam Winston is visually stunning, inspiring in tone and content, and (not least) a timely champion for the unique pleasure that can only be found in reading.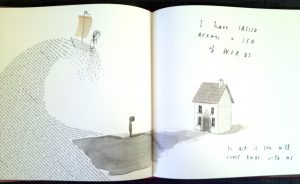 We picked this up in our local library, probably first attracted by the elegant artwork, (yes, I know, I judged a book by its cover – but I was right this time!) and Amelia was immediately as taken with it as I. The story is simple; a little girl – a child of books – sails on a raft over a sea of words to take a little boy on a lyrical, literary adventure. Their quest has them climb 'mountains of make-believe', through 'forests of fairy tales', and leads them to sleep in 'clouds of song'. All of which are illustrated so artfully as to make the reader linger over each plate, soaking up its nuance and atmosphere.
The combination of masterful line drawing and typographical collage is a wonderfully complementary collaboration, that these two artists should combine their crafts so well is reason enough for this book to stand out. Look closer and you'll find that the texts used for the typographical elements are drawn from the classics of our own childhoods; Gulliver's Travels, Alice in Wonderland, The Swiss Family Robinson, and many many more – a fitting tribute to those giants of literature that still stand the test of time.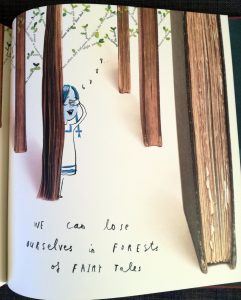 Of all the things we do together, my girl and I, those quiet moments when sharing the adventure of a new book has to be one of my favourites. Each page turn bringing a new landscape.. and several new questions from her – you just don't get that kind of quality time, and stimulation of imagination, from Paw Patrol.
Reading together is a precious memory from my own childhood that I want Amelia to have too, quite aside from the obvious benefits to vocabulary, communication, learning skills… and eventual world domination. So should you feel, over the holidays, like cosying up with your little one and a good book, I couldn't recommend any better than A Child of Books – I've since bought two more copies to give as gifts and will be looking forward to setting sail upon that sea of words with Amelia many more times.
For more see 
www.iamachildofbooks.com
*By the way, this is in no way a sponsored post – I wrote it because I believe it! In fact, I'm not even sure how happy the authors and publishers might be about me using images of the book..*