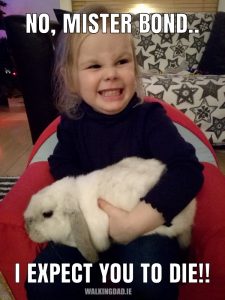 We have the pleasure of bunny-sitting this little guy (his name is Juke, or possibly Duke) for the holiday season. Only problem being it seems to have brought out the evil genius in Mimi – she does a pretty good Blofeld impression for a three-year-old! The seasonal polo-neck certainly helps.
So should poor Juke survive the weeks of aggressive affection about to be lavished upon him, I'll maybe think about installing that trapdoor and shark tank she's always wanted.
Merry Christmas, all.